by Michael Grant
Friday May 13th, 2016
Saturday May 14th, 2016
Sunday May 15th, 2016
Directed by Margaret Shearman
Hamish is a heart-warming comedy about family and love. Kelli books a trip for her overworked husband, Gordon, and herself, to his ancestor's former homestead in the Scottish highlands. There they discover a deceased ancestor has not yet left home. With the help of some local residents, they are set to the task of saving the homestead from a rival clan and preserving it in the family name.
Cast
Thomas……………… 

James Clugston
Hamish………………

 Stef Robar
Gordon Grant………. 

Ian Bell
Kelli Grant………….. 

Lyn O'Callaghan
Shelby Sutherland…. Brian Render
Annette Gordon……. Andrea Howard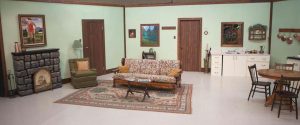 Photo of Hamish set.