Theatre Night in Merrickville will be holding auditions, on Sunday September 10th at 2pm, in our upstairs space in the Merrickville Community Centre (106 Read St), for our fall production, My Three Angels, by Sam and Bella Spewak.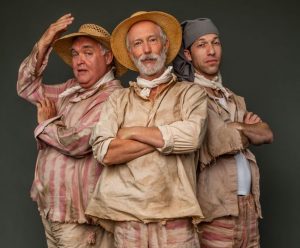 The play takes place in 1910 on Christmas Eve in the back room of the general store in, Cayenne, French Guiana. The store keeper has engaged the services of three convicts to repair the roof. They overhear that the shopkeeper, Felix,  is in trouble and that an uncle, Henri,  (owner of the business) is on his way from France to see what is going on. It is most likely that the uncle will fire Felix, when he discovers the mess that he has made of things, and the family will be homeless. They also discover a love interest, between the daughter and the uncle's nephew, that is going awry. Using their not altogether lawful methods, the convicts set about to put things right. It is a light comedy (well, we do end up with a couple of dead bodies) with enough twists and turns to keep the audience spellbound.
CHARACTERS REQUIRED:
Felix Ducotel – shopkeeper, 50+ years
Emilie Ducotel – his wife
Marie Louise Ducotel – their daughter, 17 – 25 years
Mme Parole – a customer, any age
Joseph – Ex-forger/promoter, 40+
Jules – Killed a faithless wife, he is well educated, 40+
Alfred – Ex-playboy in his 20's, he killed for money
Henri Trochard –  The uncle, bombastic owner of the store, 60+
Paul – Henri's nephew, in his 20's – early 30's
Lieutenant – small cameo part at the end of the play, in his 20's
Everyone welcome. Call Margaret at 613-269-3729 for more information.