Casting call from Theatre Night in Merrickville (TNIM) – 4 men 3 women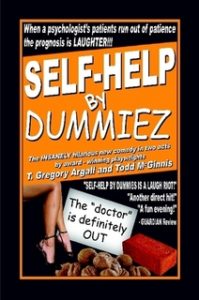 Self-Help by Dummiez  ~  a comedy by T. Gregory Argall and Todd McGinnis (Canada 2004)
Directed by Andrea Howard
The action takes place in the present, in a psychotherapist's waiting room.
"When a psychotherapist is late for work, the growing collection of patients in his waiting room are left to fend for themselves… with hilariously unexpected results."
Characters:
DR. ENBRIDGE: Male/ 30 – 60    A self-centred psychotherapist. (Mostly absent)
MRS. WINTERS: Female/ 30 – 60 His long-suffering receptionist.
JERRY: Male/ 30 – 60  A man about to snap.
MRS. QUACKENBUSH: Female/ 50 – 70    A few walnuts shy of a full-load of bananas.
MATT PORTICO: Male/ late 20's – 30's    Compulsively apologetic and cripplingly shy around women he finds attractive.
CHASTITY GESPATE: Female/ late 20's – 30's   An alluring hypersexual virgin.
MICHAEL SAGE: Male 30 – 60    A leading motivational speaker with anger-management issues.
Auditions to be held at the
Merrickville Community Centre, 106 Read St. Merrickville
Big White Building – 2nd floor – use NE doorway at corner of Read St. and Main St W. and follow the signs.
Round 1:
Sunday Jan 22, 2 pm – 5 pm 
Tuesday Jan 24, 7 pm – 9 pm 
Round 2:
Sunday Feb 5, 2 pm – 5 pm 
Callbacks on Monday & Tuesday of that week.
Rehearsals will begin February 11.  To be performed second weekend in May 2017
Rehearsals will be on Sunday afternoons and one or both of Monday and Tuesday evenings.
No rehearsals Wednesday or Thursday
Anyone interested in working as crew for the Production is also welcome.
Contact : Andrea Howard, Director  andreahoward@sympatico.ca  call or text 613-269-7975