My Three Angels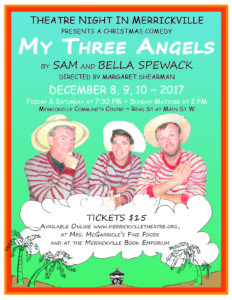 a Christmas comedy
by Sam and Bella Spewack
Directed by Margaret Shearman
At the Merrickville Community Centre,
106 Read St., Merrickville
Friday Dec 08, 7:30 pm 
Saturday Dec 09, 7:30 pm 
Sunday Dec 10, 2 pm
The play takes place in 1910 on Christmas Eve in the back room of the general store in, Cayenne, French Guiana. The store keeper has engaged the services of three convicts to repair the roof. They overhear that the shopkeeper, Felix,  is in trouble and that an uncle, Henri,  (owner of the business) is on his way from France to see what is going on. It is most likely that the uncle will fire Felix, when he discovers the mess that he has made of things, and the family will be homeless. They also discover a love interest, between the daughter and the uncle's nephew, that is going awry. Using their not altogether lawful methods, the convicts set about to put things right. It is a light comedy (well, we do end up with a couple of dead bodies) with enough twists and turns to keep the audience spellbound.
CAST:
Felix Ducotel – Roly Roy
Emilie Ducotel – Sheila Cook
Marie Louise Ducotel – Peyton Horning
Mme Parole – Shirley Molloy
Joseph – Ian Bell
Jules – Al Billiald
Alfred – Stephen Fuller
Henri Trochard –  James Clugston
Paul – Michael Phillips
Lieutenant – Chris Chinkiwsky
Tickets available on-line in our Shop 
or in the village at Mrs. McGarrigle's Fine Foods or the Merrickville Book Emporium
For further ticket information, call Bronwen McKnight at 613-269-3891