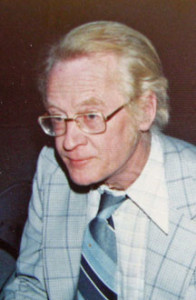 Theatre Night in Merrickville was informally established in 1975 by Arnold Connerty (photo) in an effort to raise funds for the local community medical centre.
The group of volunteer actors and actresses had so much fun during their first production that an official theatre group was born. Many of them are still members today. TNIM's first full length play, 'Our Town', was produced in 1975. On TNIM's tenth and twenty fifth anniversaries the same production was brought back to the stage. Six of the cast members performed in all three productions.
We have hosted and participated in The Eastern Ontario Drama League's Full Length and One-Act festivals, bringing home a number of Awards for: Acting, Direction, Stage Management, Costumes and Best Production.
Our mandate is to produce a full length play every spring and fall. During the summer we produce a short family oriented play, performed outside during the CanalFest ceremonies. Performances normally take place at the Merrickville Community Centre. (See map below).